SILK OF ASSAM: SEGMENT 1
Assam silk can be best described with the help of an excerpt from a beautiful poem by Alora M. Knight.
I wonder if we realize

The gifts that we've been given,

The endless flow of beauty

Bestowed on us by heaven.
This is how we can describe what Assam and its silk means to their people. But little do people of the world have known or felt the exquisite, simplicity, and strength of the silk in Assam.
It has been mentioned in the manuscript such as Ramayana that while you travel East you have to cross the path of "the country of the cocoons" which is India's beloved Assam – the state that will give you the picture of how can be created into beautiful pieces of attire. How tales can be expressed not by words but by those threads they spin out of the silkworms.
Let us begin with the journey from where it all commenced…
Origin and History of Assam Silk
It all started from the period when Ahom ruled in Kamrup; when almost every woman knew how to rear silk and weave clothes out of them. The popular Kautilya's Arthashastra also discusses some of the silks out of which Suvarnakudyaka(silk produced in Assam)was mentioned. This explains the copiousness that this place has regarding the position of silk.
The major hub of silk production in Assam was and is to date at Sualkuchi (which is the leading Center for handloom). This industry has received much acknowledgment for Assam silk starting from the early ages and then got a higher lift during the IInd World War due to the increase in fabric trading.
Present scenario of Assam Silk
The industry is evolving and not only silk but various other fabrics are being produced in Assam and are in great demand all time of the year. The designs and composition have also upgraded and are reaching to people and can also buy Assam silk sari or mekhela sadar online.
There is silk such as Banana silk and many which are increasing in demand due to its richness of the fabric. Below we will be outlining the three major silks of Assam.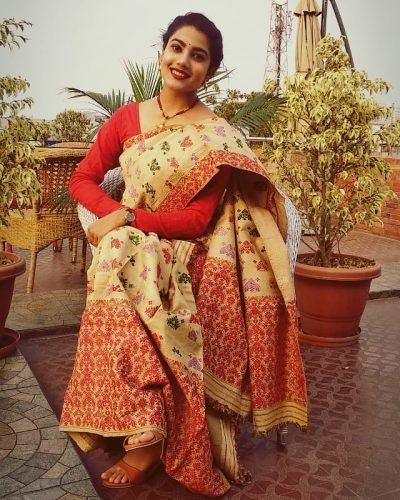 Three major silks of Assam
When it comes to type, individuals tend to confuse the varieties of silk with each other and end up being confused as to which one is produced in Assam. Three major silks are prepared in Assam. They are –
Muga Silk: The silk that has this amazing golden hue and is regarded as the costliest silk in Assam. This silk is mostly used to make the traditional wear which the ladies wear mostly during the Bihu season.
Pat Silk: This is one of the most used silk in Assam. The products that come out from this yarn are comfortable to wear in almost every season.
Eri Silk: This silk has its beauty and will bring richness along with it. The silkworm which feeds on the castor plant (era) is used to weave out the yarn.
These are the silks that are originated in Assam, but now there are many other silks that Assam has started to produce and work on them. For e.g Mulberry silk, Banana silk, etc. we will talk about the prime silk in the second part of this article. It's going to be something to look upon.
In short, Assam does not only provide rich heritage, flora, and fauna but also has this unique culture that will make your heart stay in Assam once visited. There are many things yet to be known in Assamese culture that is worth praise and love.
The people here are immersed in love and gratitude for what they have been given and all these amazing tribes live together as one keeping their pride in their Silk. A lady seen in mekhela sadar is worth a view like a sunset on a winter evening.