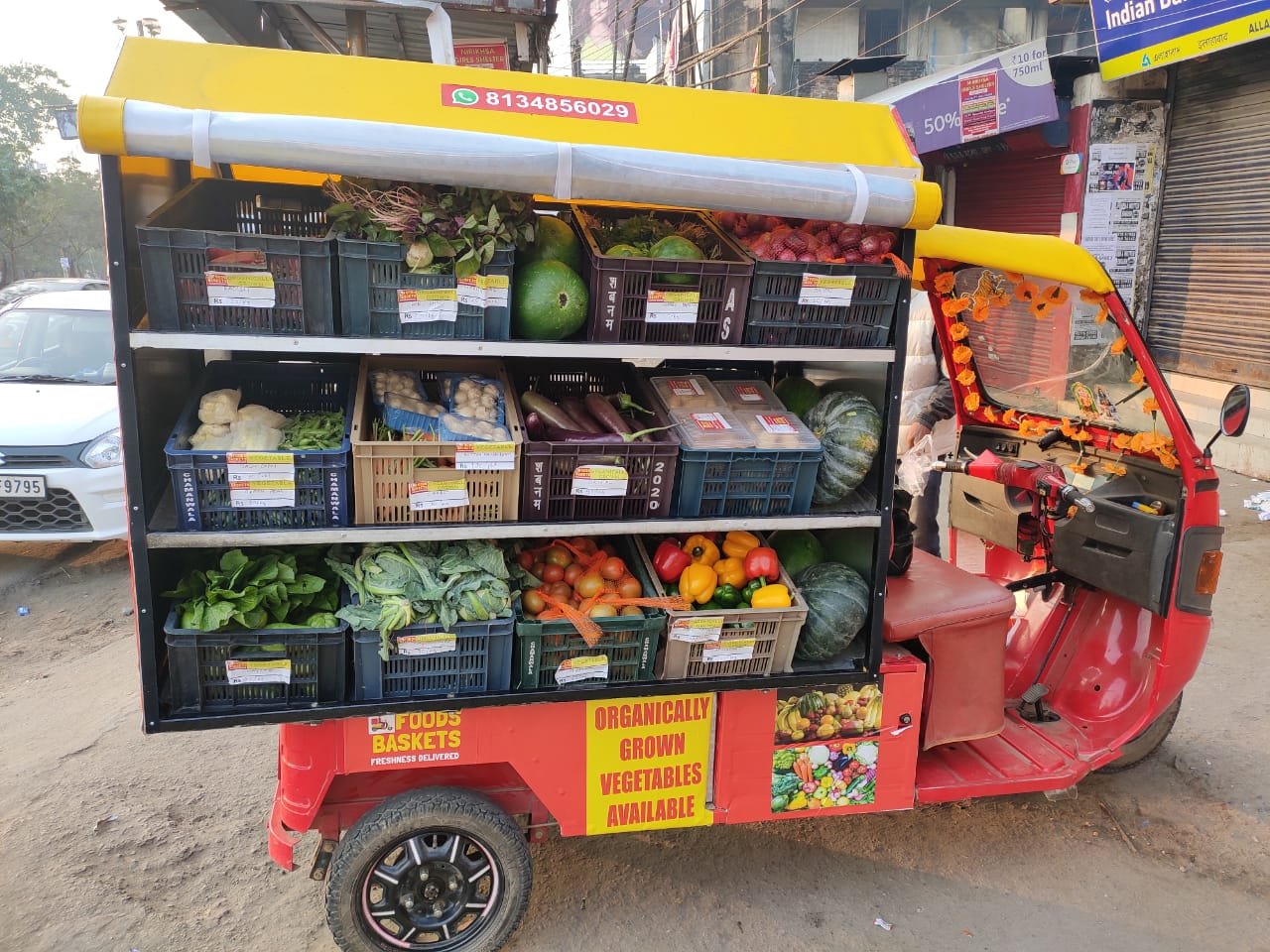 Defeating Tough Times Know How This Duo Successfully Pivoted 'Foodsbaskets'
Pranab, a techie by profession had spent a long time working with corporates in Bangalore, Norway, and US. Having spent some time outside, in 2017 he decided to come back to his motherland and do something equally exciting.
"I initially started with a restaurant business as Food was something that's close to my heart like every KharkhuaAxomia does.It was initially going well until the start of last year (during COVID) is when we felt the heat due to lockdown. I met one of my old school friends whose restaurant business was equally hit by the pandemic and we decided to do something about it. Broken but not demotivated, we decided to start afresh and do something along the similar lines. A couple of months of brainstorming and debating on what can be the best to start with, we ideated Foodsbaskets.com – an online platform to sell fresh vegetables, fruits, meat, fish and frozen food in Guwahati"
In an exclusive interview with Shrinkhol, Pranab and Debajeet talks about their online grocery startup, emerging niche market in Guwahati and their customer acquisition strategy. Excerpts from our interview are covered.
What products are currently covered under Foodsbaskets?
Grocery means almost everything under the sun sometimes and hence it becomes very difficult to manage the inventory. We initially did start with a lot of items and now we are optimizing our product offerings. Our core products are currently fish, meat, frozen foods, vegetables, and some perishable items.
How did lockdown helped you in scaling your reach within the Guwahati?
At the start of lockdown, because everyone was indoor, we had orders flooding our door and we literally weren't able to serve some of them due to resource constraints. We also learned a lot of things during that phase – what is the way to prioritize, feedback on our service and the way to go ahead. As the days are getting back to normal, the orders are getting down although we are still growing.
Online grocery is a hit in developed metros like Bangalore, Mumbai and Pune. What is your opinion with Guwahati on the same lines?
In a developing metro like Guwahati, although the receptiveness to buy grocery online isn't very big yet but there is a sizeable growing customer base, and we are targeting them. We are targeting customers who are looking for quick, convenient, and Quality product. There is still a long way to go for online grocery to be as big as the ones in Metros but we are definitely seeing a road towards that down under.
In the online food delivery or grocery chain startup scenario, most of the startups are still not profitable and have a history of burning a lot of cash to establish their market. What is Foodsbaskets doing to counter this?
Yes, the ones who have grown big have burnt a lot of operational cash. We don't have such big budget to start with. We are currently very focused in making our customer service right and grow incrementally. We have a plan to expand both in terms of our product range and operations in the coming up and we are focused on working on it
How are you reaching out to your customer base currently?
We take orders through our website (foodsbaskets.com) and Whatsapp. We also have an android app ((Foodsbaskets) through which customers can place their orders and pay via any of the online or offline payment (COD) modes. Apart from this, we have our special E-FoodCart which you can see in your neighborhood carrying our items. To serve our customers in north Guwahati, we have opened a small pocket store in IITG campus. This is to serve our customers in an around the area in IIT.
Future plans and financial backings?
We have bootstrapped our operations with founders own contribution. We have been selected for Startup Incubation Programme Saranya 3.0 by North East Agri Technology Entrepreneurs Hub (NEATHUB), which will provide necessary mentorship and financial support.
As for plans, we are very hopeful the way things are shaping up and we have laid out some roadmap for the upcoming months to utilize our funds and reach more customers. You can see our pocket stores picking up more within Guwahati. This is to extend our support to more and more customers and reduce delivery time. Also, we are going to add few more exciting products to our lists including more local food items in our menu
Do you feel a threat with incoming of bigger players like Licious and Bigbasket to capture the market in Guwahati?
I believe it will be just help us validate our idea more if we see other bigger players coming to capture the market in Assam. To be honest, the market here is very different compared to Metro cities and hence winning the trust from local is relatively harder. We being among the first to have started this will have the added reach with us. I definitely think the more players we have better is the chances for us to grow.