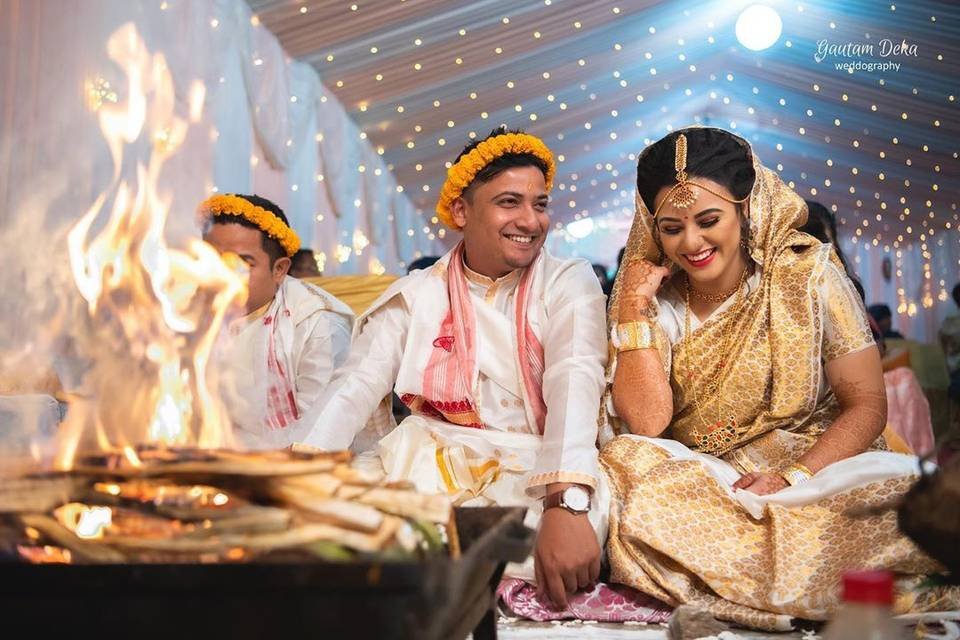 Image source: WEDDINGWIRE.in
Traditional Assamese Marriages
The "Hoot-Hoot" season is here again and we can see that most of our mates are set to begin their "tie-the-knot" rituals by this year. But the beauty and excitement that lies here are the traditional Assamese marriages. There is something about it that you cannot miss at all. If you are one who goes down to traditions then an Assamese wedding is not to be missed as they are oozed with traditions. Not only the rituals but the colors; the food and the love that embraces the families is something that will make you feel warm and also give you a cue of minimalism mixed with maximalism (Yes! That's a twist). 
So, since Assam celebrates varieties of cultures with people of all communities. There are different names given to wedding rituals in Assam. But today here we are going to know a tad bit detail of about how Traditional Assamese Marriages are. 
Pani Tula and Nuwa
Now Pani Tula (Collecting Water) is a ritual that is carried on by both the Bride and Groom's families. Here the mothers of each one are accompanied by all other ladies and children to bring up holy water from any nearby water bodies. This water is made holy by carrying a coin, a few mango leaves put into the pot and the water is cut thrice by a knife and then it is tied to a gamusa(a traditional cloth) which is kept by both the Bride and Groom the entire wedding. The water is then used for a Nuwa(ceremonial bath) where everyone applies turmeric paste as well as black dal paste with oil to make their skin glow. Everyone dances, cries and laughs at the same time to celebrate the wedding.
Juron and Tel Diya
Now Juron is a tradition that happens a day or two before the ultimate wedding. Here the Bride's to-be Mother-in-law and all other lady relatives give gifts and sindoor(a red powder applied by a married woman after marriage on her hairline) to mark her as the Groom's Bride. There she will be given Pan-Tamul along with sweets, some beautiful clothes including the main attire she shall be wearing at the time of the main wedding ritual), and other ornaments for her to wear during the wedding and reception. Tel Diya is another short yet imperative tradition where the Groom's Mother puts Pan-Tamul (Areca Nut and leaves)  on her forehead and bathes her head with oil and then applies the sindoor on her. This ceremony makes the Bride's family quite emotional as it depicts that the Bride now belongs to the Groom and his family. Tears are shredded by the Bride's family in both joy and sorrow. 
The Wedding
Here is the one tradition that ultimately ties two souls together forever-The Wedding. Now, according to different people the wedding is held differently. But the most common one is to sit in front of the Havan and pray to God as well as take blessings from all the elders of the family. Usually, this ceremony happens for a very long time as there are step-by-step procedures to be followed. There is a very strict rule that until the wedding is over both the Bride and the Groom are restricted from eating anything. They have to perform the task on an empty stomach.  
Post wedding there are some games that are played by them such as find the ring game wherein a bowl full of milk and flowers a ring is put and both have to find it. It is said that whosoever will find it first will be the one having good control over the marriage(LOL)!! This is just to make them both comfortable and relaxed after a series of traditions followed at the wedding.
The Reception
Now, after the Bride and the Groom are hitched, after a day or two there will be a reception party to be organized which is celebrated to mark the togetherness and beginning of a new journey for the couple. Family, friends, and relatives everyone gathers around at the reception feeding on delicious food and drinks. This reception is generally hosted from the groom's side. 
Aathmongola
Aathmongola is a ritual that is performed after 8 days of the marriage where the newly wed couple visits bride's paternal home. Relatives, close friends gather in the event and feed the newly wed with delicious meals, sweets and wish them for a happy married life.
If you have to deep dive then there are many other small wedding rituals in marriages to be followed in a typical traditional Assamese wedding which are a way to give the guests and the couple a sense of happiness and simple yet beautiful meaning to their marriage. Here hoping that if you are a non-Assamese, you get to experience one and if you are an Assamese you get to be in one.