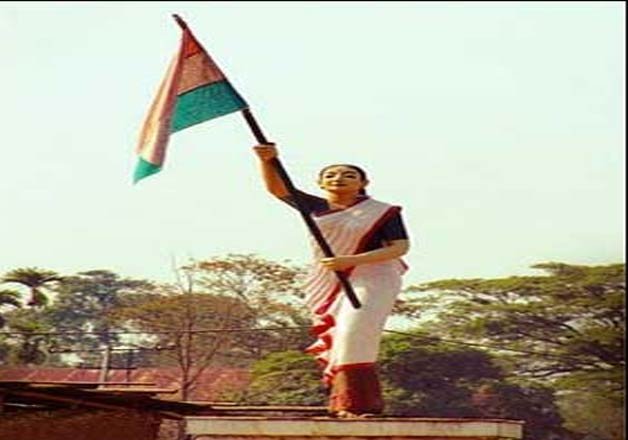 A statue of Kanaklata Baruah PC: indiatvnews.com
Unsung Women Heroes of Assam
"I am not ready to die because it requires infinitely greater courage to live." – Sarojini Naidu. This is not just Sarojini Naidu but many alike from all over the sub-continent that showed what patriotism is. It's the sweat for some and blood for many but the result was what we breathe now- FREEDOM! 
Today here we are paying a tribute to two of the bravest women unsung heroes who are seldom talked about all over India although they have paid a major contribution to stand against the Brits back in 1942. Your heart will bleed with pride after reading their stories of bravery. 
1.KANAKLATA BARUA ( 1924-1942)

 
The daughter of Krishna Kanta and Karneshwari Barua who was born on 22nd Decembr, 1924 was born at Barangabari, Darrang district of Assam. Little did anyone know that one day in the future we would be writing her bravery tales titled unsung brave heroes of Assam-Northeast India and as a whole INDIA. She was a freedom fighter and a martyr who lost her parents at the age of 5 and 13 leaving behind her siblings whom she had to take care of even if it meant dropping out of school. Tezpur(the city of blood) was raging with the Quit India Movement during the year  1942 and Kanaklata happened to be there. She had a patriotic soul which induced her to join this movement. She also wanted to join Azad Hind Fauz but being a minor didn't allow her to. 
In this movement "Mrityu Bahini" was set up meaning dead squads. The reason for such a setup was the ruthless death of Kushal Konwar( President of the Local Congress then). This led to a revolution in which the Indian flag was to be hoisted in all the prominent places replacing the British ones. This required a Dead Squad who would be courageous and determined to complete the task no matter the cost and Kanaklata happened to be one of them.  On 20th September 1942 she went out of her house for a social visit but with the intention to protest by taking a Tricolor flag in her hand and while trying to hoist it in front of the Gohpur police station she was shot dead. She was not even 18 years of age when she sacrificed herself for the land she was born in which was captivated by the foreigners. Her recognition is not as much as her sacrifice but we hope one day she gets what she deserved from its land.  
 2.

BHOGESWARI PHUKANANI(1885-1942)
This name has been seldom or never mentioned in our school textbooks to learn about- Bhogeswari Phukanani. She was born in Barhampur, Nagaon District of Assam. Being a parent to 8 children and being at the age of 60(The Quit India Movement time in 1942) she always kept on inducing her children to participate in the movement for freedom for India. 
She was just a regular mother and a wife with an undying love for her country and so at that point in time when most of the prominent leaders were jailed, it was in the hands of the common people to be given an opportunity to save their own country. At that time, the Indian National Congress, Barhampur was seized by the Brits. Many activists, leaders, and supporters were tortured during this time, but the local people of the area fought back and took back the office in September 1942. To take revenge for their defeat, the colonials sent an angry Captain post that who was known as Captain 'Finish'. 
Here we hear the brave story of Phukanani who was said to have led the people against the British. There are two contradictory stories of her but both shows the heroism inside her. The first account says that she was marching with another freedom fighter named Ratnamala holding the National flag when Captain Finish snatched it from her showing disrespect. This enraged Phukanani and she attacked Finish with the flag pole where she was shot dead. 
Another account says that another British named Finch was pointing a gun towards her sun during that movement looking at which she attacked him and was immediately shot dead. 
Later, post-independence in 1947, a hospital and an indoor stadium were named after her at Nagaon and Guwahati respectively to show respect for how she fought for the freedom of her land.
Well, these are just few among many of those heroes who fought their fight with so much of dedication that even now we get goosebumps. I hope that we get some amazing heroes who fight for women equality even in this era when we are so called "independent" but aren't..
So ladies!! Freedom is beautiful…and these heroes are just an example of it.