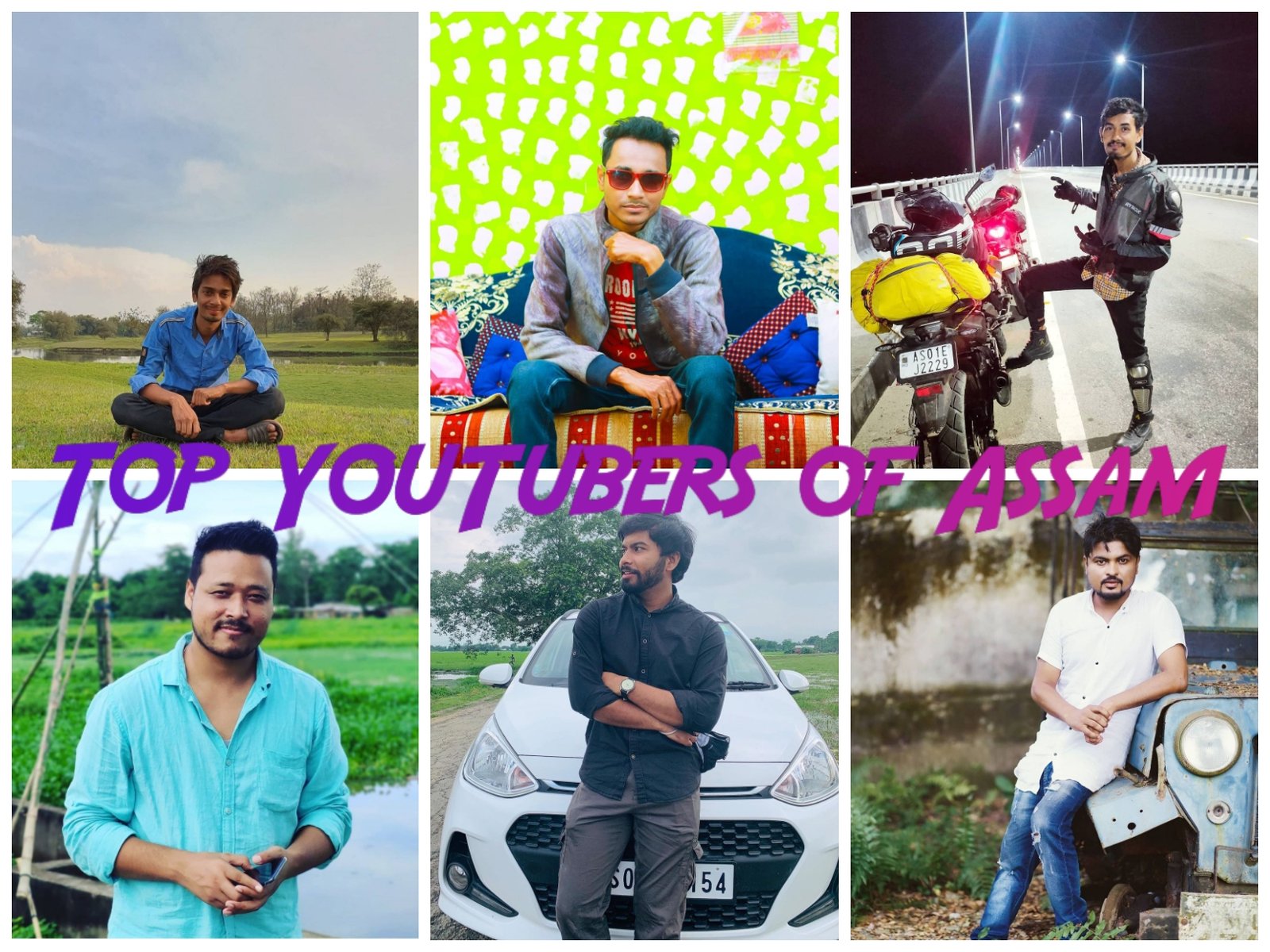 Top YouTubers of Assam- Fun, Food, Knowledge and More
Today, let's take you to a world full of entertainment, full of knowledge, full of information, full of food, fun, facts and a world that can virtually take you to any place in the globe! Yes, that is the world of YouTube, where our very own popular Assamese YouTubers have hosted a flag of pride for the entire state. 
If we consider from the number of subscribers point of view, the list of the top YouTubers in Assam might not be accurate as the numbers of subscribers and followers keeps on changing/increasing. Here some of the YouTubers that manages some of Assam's top YouTube channels have been mentioned. These YouTubers never fail to please the people of Assam with their amazing content. Now, let's dig into their super entertaining and informative channels with a thumbs-up for their hard work.
1. Dimpu Boruah: 'Mane mane mane'!- this is what comes first before going to any description about Dimpu Baruah or his YouTube channel, that's the unique way of him for narrating his videos. Dimpu has two YouTube channels- one is Dimpu Boruah, where he covers miscellaneous topics including technology, new interests, fun facts, present burning topics etc. and the second on is his Vlogs channel, where he covers visiting different places local and around the world.  He has got good number of followers in both the channels and recently has honored with the golden play button from YouTube. 
Channel name: a) Dimpu Boruah
No. of subscribers: 908k
b) Dimpu's Vlogs
No. of subscribers: 1.14M
2. Bhukhan Pathak: Bhukan Pathak's 'Assamese Mixture' is one of Assam's top YouTube channels. Here, he mainly covers interviews of Assamese celebrities including famous actor, actresses, dancers, singers and popular public figures. His YouTube channel sometimes shows travel sceneries too. With about 1k+ videos as of now he has interviewed a good number of Assamese celebrities of the old and recent era.  
Channel name: Assamese Mixture
No. of subscribers: 634k
3. Chittaranjan Nath: 'Digital Sahay' by Chittaranjan Nath is basically an Assamese technical YouTube channel where he makes videos on different digital technology related topics in Assamese language. This channel shares very informative videos and people love this because they get to know about different tricks and tips of the digital world in their native language which makes the learning process easier for them. 
Channel name: Digital Sahay
No. of subscribers: 630k
4. Arup Das: Arup Das's YouTube channel 'Voice Assam' is famous for its comedy videos. Started in the year 2015, this popular Assamese YouTube channel has got 300+ videos as of now. The comedy character 'Telsura' in his video has large fan following. 
Channel name: Voice Assam
No. of subscribers: 1.36M
5. Bikash Chetri: Bikash's YouTube channel is basically a vloging channel where he covers travel videos of different places local and outside. This young energetic YouTuber is one of the top YouTubers in Assam in the recent time, a loving figure and people in Assam admire his videos a lot. Though Bikash handles two YouTube channels, his 'I love travel and food', started in 2018 is more popular now. 
Channel name: I Love Travel and Food
No. of subscribers: 305k
6. Sunny Golden: Sunny Golden is a popular Assamese comedy YouTube channel. Here the video creator makes comedy videos relating different topics of the day to day life. His videos feature local actors and actresses and kid characters too. 
Channel name: Sunny Golden
No. of subscribers: 522k
7. Heavy Budget: Comedy channels steal the show every time! Heavy Budget is a joined venture of few common minded people- friends and cousins, who create super entertaining videos and make people laugh. This is a channel that has been gathering good traffic in a few time and that is not a shocking fact because their content is really of that standard.
Channel name: Heavy Budget
No. of subscribers: 370k
8. Harpal Saikia: Here comes my personnel favorite! Though Harpal is a new racer in the YouTube world, the way people are showing love towards his videos is amazing and he deserves every bit of it! His videos are mostly comedy videos but focuses on burning topics and social issues trying to generate awareness with a message at the end of his videos. This young active gentleman is growing fast in the race of top YouTubers of Assam and grabbing the social media stardom very quickly. 
Channel name: Harpal Saikia
No. of subscribers: 82.2k
YouTube is now a very popular video sharing platform and a great medium to connect with people, know different things, learn new skills and get entertained. YouTube has a big role in influencing people in many ways and as integral part of YouTube, the YouTubers too have responsibility to show good content to people. The case is not different with Assamese YouTubers. Following the same Assam's CM Sarbananda Sonowal recently invited few of the popular Assamese YouTubers and asked them to promote Assam and its different aspects to the world. We too have good wishes and lots of hope towards our YouTube heros!